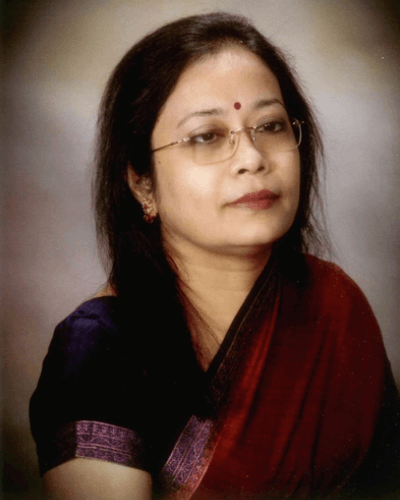 Meghna Ameen is a Carnatic music lover/promoter/organizer. She was born in January 18, 1958 in Dhaka, Bangladesh in a family of artists. Both her parents graduated from Dhaka Art College (currently known as 'Faculty of Fine Arts, University of Dhaka'). Meghna completed a Bachelors of Science degree in Mathematics from the University of Dhaka and afterwards an Associate degree in Accounting & Finance from New England College of Finance in Boston, Massachusetts.
Professionally, Meghna worked as a teacher of Mathematics (1998 - 2002) in Sunbeams and Sunnydale schools in Dhaka. At present she is working as a volunteer teacher at Jaago Foundation, Dhaka.
Meghna's interest in music started at the age of 6 at Bulbul Lalitkala Academy and Chayanaut in Dhaka. She later got private music lessons in Hindustani classical and Nazrul Geeti from Narayan Chandra Bashak, Abdul Wahid and Momtazuddin. Her devotion to Carnatic music started in 1994 during her stay in USA with lessons from Mani Bhashyam and Tara Anand. After moving back to Bangladesh in 1998 she continued her dedication through annual visits to Chennai, India where she was fortunate to learn from Dr M Balamuralikrishna until his demise.
Meghna founded the first Carnatic music center 'Sarva Sree Foundation' (www.sarvasree.net) in Dhaka, Bangladesh in August 2002, which was officially inaugurated by her Guru Dr. M. Balamuralikrishna on July 10, 2003. In 2008 she started a sister organization (www.sarvasree.org) of 'Sarva Sree Foundation' with the same name and purpose in Iowa City, USA to propagate, promote and preserve the priceless songs of her Guru Dr. M. Balamuralikrishna and other great musicians' all over the world especially in Bangladesh and USA.
Since 2003 she has been conducting several concerts and numerous workshops in both Bangladesh and USA. Video recordings of the concerts are distributed in the US, India and Bangladesh. Her objective is to spread the knowledge of Carnatic music worldwide through arranging high end music collaboration projects between the East and the West.